How to Help Your Surf Groms Deal With Climate Anxiety
Lately, I have been thinking a lot of Greta Thurnberg's throw down at the United Nations Climate Action Summit.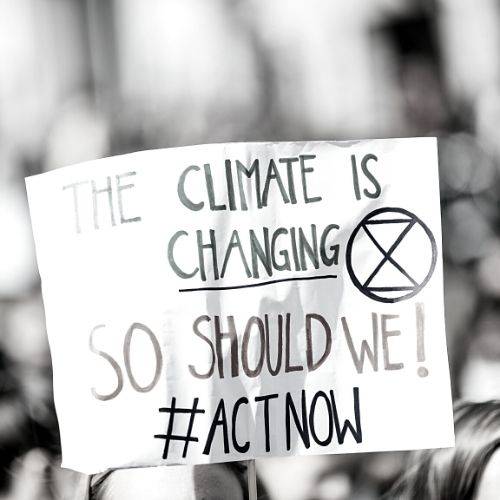 This spunky Swedish climate activist, for all of her 16 years, was passionate and outraged enough to shame government leaders and policy makers into addressing human-induced climate change. Who would have ever thought that this kid would be able to start a movement that would be supported by millions of young people and gain a platform from which to address world leaders.
When I was in Bali last week, having a great time with the waves, I saw a lot of local kids who were also enjoying their time surfing. It was heartwarming to see their smiles and hear their jubilant cheers as they rode and tumbled down the waves.
These groms, many of whom are of Thunberg's age and bursting with childhood innocence and idealism, consider the ocean as their home. But now that plastic pollution is a real problem, especially in Bali, I wonder how long until they become anxious about the condition of their ocean and demand action from their elders, like Greta once did.
• Slow Response to Climate Change
• Climate Anxiety is Real
• What Can One Do?
• Teaching Them Young
• No Excuse for Slacking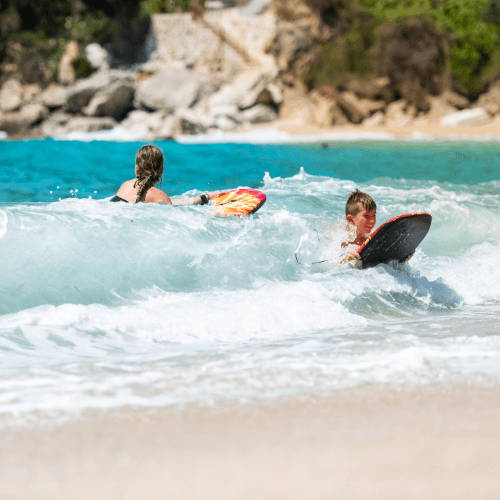 Slow Response to Climate Change
The situation in Indonesia is not unique. Governments worldwide have been remiss in protecting the climate for their children. According to the Climate Change Performance Index, no government has achieved a "very good" performance. In fact, America is embarrassingly in the bottom five, along with Saudi Arabia, Iran, South Korea, and Taiwan.

And this is shameful and outrageous. Rich countries, like ours, are responsible for most of the carbon emissions in the atmosphere. So it is irresponsible for our industries to continue emitting greenhouse gases at higher levels than poorer countries whose people will suffer most from the climate change caused by greenhouse gases.

And by that, I mean these kids and their families. Island countries, particularly low-income ones, are at the forefront of the damage caused by climate change.
For these kids and others all over the world's coasts, surfing offers them a fun, healthful, physically, and emotionally stimulating activity. It also offers them developmental and health benefits, and imparts life lessons not readily found elsewhere.

But as every surf veteran knows, it also makes you intuitive to the rhythms of nature. So much so that you become aware of how the ocean is getting sick because of all the negative impacts that climate change is causing the environment. Sooner or later, that is going to impact them too.

One way is through climate anxiety. In a 2017 report by the American Psychological Association, climate change and related natural disasters can cause a negative impact on one's mental health. It can cause depression and anxiety.

And children are one of the hardest-hit groups. According to a poll by the Washington Post and the Kaiser Family Foundation, more than seven in 10 teenagers and young adults in the United States say climate change will cause harm to their generation. I think it's safe to assume that, within this population segment, our grommets will be hit the hardest.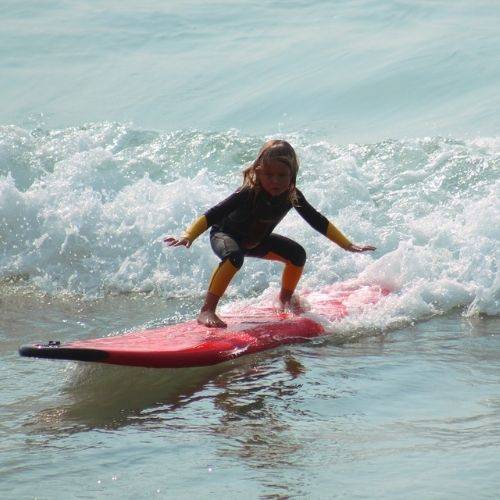 From surfboard travel bags made from sustainable hemp to durable board leashes made out of recycled plastic, we're trying to make the surfing industry green one surfer at a time. Like Greta Thurnberg once said, we should do all we can. Those are words my colleagues and I at Wave Tribe live by.
— Derek Dodds, Wave Tribe Founder
There's an interesting and timely article at the New York Times that says parents should talk to their children about their climate anxiety.

The psychiatrists interviewed for the article recommended that parents should ask children what they know and feel about climate change and then gently correct their irrational fears but not to downplay their anxieties.
After clearing misconceptions about the climate issue, parents should shift the discussion to people and organizations that are already working on large scale climate solutions. In this way, parents are constructively helping the children cope with their fears so as not to be hopeless.

Putting it in a personal context also helps. By highlighting the steps that the parents, in their personal capacity or as a family unit, have undertaken to reduce carbon footprints, they can help ease their children's anxiety.
After reading that helpful article, I am reminded of how we're treading on that same path of awareness with the projects that Wave Tribe supports.

In particular, I remember Misión Surf and their noteworthy project to help Puerto Madero, a local impoverished community on the coast of Tapachula, Mexico. Misión Surf Mexico works alongside the residents of the community, providing job opportunities, free arts, and education projects as well as the creation of local sporting facilities.

They also train local groms in water safety, swimming, and of course – surfing! I'd like to think that one of the benefits of their training is inculcating a deep abiding love for the ocean and the need to mitigate climate change in order to protect the marine waves.

Because if there is any one who can take the lead in their communities, it's these kids. Like the title of Greta's book, "No one is too small to make a difference."