How to Make your Surfing Travel Plans Eco-Friendly
It's the holiday season again. That means school's out, work shuts down and everybody gets into festive cheer because, well, it's the season to be jolly and there's lots of time to take a vacation.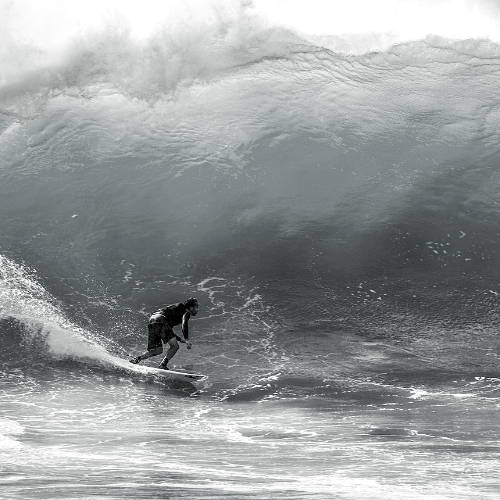 For surfers, most especially, it's around this time of the year that we're free to take a surfing trip.
We've been known to disappear at the drop of a hat to go to distant places around the world to catch the perfect swell. But for those of us who are holding a job for most of the year, December is the only ideal month to go out and chase that wave.
But before you firm up your surfing travel plans, please be mindful of the impact that surfing can have on the environment. For every journey you take, you contribute greenhouse gases that cause climate change. From the planes you fly on, to the plastic packaging that you use during your trip, these all add to the carbon emission. And that is so against the surfing philosophy of being one with the environment.
So we need to do our bit for the environment. And that means mindful and smart planning. We look forward to these surfing trips because it allows us to touch base with nature and rejuvenate ourselves. But there's no need to spoil that experience with a guilty conscience knowing that we've accelerated global warming instead.
So here are various ways to make your surfing travel plans eco-friendly.
A lot of awesome surfing spots are located in areas that are still pristine and untouched by urbanization. And yet, once the word gets around, these areas are in danger of being spoiled by commercialization, by becoming tourist traps.
 
You can help prevent that by refusing to stay in lodging and accommodations that disregard the environment. Some hotels clear out coral reefs to make foundations for its buildings, others pound beaches to create white powdery sands for tourists. By refusing to patronize any surfing spot that does not practice sustainable tourism, you help tame the corporate greed that fuels every sad story of paradises becoming lost.
● Plan out your Flight Plan Smartly
Not many are aware of it, but air travel is an egregious way to increase one's own carbon footprint. For example, traveling from Europe to Australia results to about 4.5 tonnes of carbon. As an industry, airplanes use about 5M barrels of oil every day and burning it contributes around 2.5% of total carbon emissions, which could eventually reach to 22% by 2050.
 
Surfers, because of their proclivity for wanderlust, have 50% greater than the average person's carbon footprint. Taking long haul flights, which can emit up to 5 tonnes of CO2, already makes about a half of the average person's annual carbon footprint.
 
One way to lessen the carbon footprint is to fly in as direct a path as possible to avoid waste. Much of the carbon emissions are generated during landing and taking off - especially during taxiing - so it makes sense to stay above the air as much as possible en route rather than changing flights every now and then.
 
However, if you can't really help it, you can…
● Buy Carbon-Offsets for Travel
First off, what's a carbon off-set? It's simply a way of funding programs to offset your carbon footprint. The money that you spend for off-setting goes into reforestation and similar projects designed to reduce the carbon emissions in the world.
 
There are lots of reputable non-profits online whom you can buy carbon-offsets from. The IATA, the trade association of 82% of airlines worldwide, has a program that allows customers to pay for the cost of offsetting their flight. In some cases, the price of the airfare already includes the equivalent charge for the carbon cost of your travel.
● Live in Eco-Accommodations
Look for accommodations that are eco-friendly and sustainable. If you plan to live in a surfhouse, choose one that has LED lights to save energy and no showers to save on water. Segregate and recycle your wastes. If you're going with a group, organize group dinners at your place to cut down on food waste.
 
The important thing here is to practice a less wasteful lifestyle for the duration of your surfing holiday. Staying in an eco-friendly facility helps reinforce that. It also creates more consumer demand for similar sustainable facilities in surfing spots worldwide.
● Pack Eco-friendly Surfing Gear
This goes without saying. Because surfing gear can really be toxic. The production of surfboards alone creates an average of 220,000 tonnes of CO2 per year.
 
An average polyester resin 6'1″ shortboard has a carbon footprint of 400lbs of CO2 emissions while an epoxy 9'1″ longboard has around 1,000 lbs of CO2 emissions. That's more than the carbon footprint of a flight from LA to Hawaii (around 750lbs CO2 emissions).
 
So if you haven't ditched out your toxic boards for the latest, eco-friendly ones, then do it now before taking that surfing holiday.
 
Consider using hemp-based surfing travel bags to carry your boards, apply eco-friendly waxes to your boards, and make sure that the sunscreen you use doesn't endanger the corals. While you are at it, replace your neoprene wetsuit with the eco-friendly alternatives.
● Be Mindful of your Plastic Footprint
Plastic, like carbon emissions, is one of those stuff that we need to reduce right now if we are ever going to stop global warming. There are entire islands of trash floating over our oceans right now because we've become too complacent enough to ignore its long term negative impact to the environment and our health.
 
Don't use single-use plastics like mineral bottles. Bring a water bottle with you instead. Use a cloth bag or a metal box to hold your toiletries. Join or organize beach clean-ups. Think of it as a way of giving back to the ocean for the wonderful surfing. Not only do you get rid of plastic but you also show others how to be more conscientious and caring for the environment.
● Lastly, be a Eco-Tourist
Like I mentioned earlier, some of the best surfing sites are located in less developed countries. International tourists can sometimes have a negative effect on the tourism spot by monopolizing the use of valuable resources, or that the dollars that they spend are not trickling down to the local economy.
 
You can prevent this by patronizing locals who run eco-friendly businesses which preserve the local environment and surfing culture. Buy their local produce; it props up their economy and the agriculture. By doing so, you help keep them sustainable.
The wave is whatever you make it. Just be mindful of your footprints and influence others to do the same. In this season of giving, nothing beats the gift of of awareness on how to help save the environment while surfing.
— Derek Dodds, Wave Tribe Founder
Now, Where to Surf this Holiday Season?
If you're planning to have an out-of-the country surfing trip, there are four spots that my Wave Tribe bros and I recommend for some holiday surfing. These places have the best waves at this particular time of the year and can be surfed by anyone, beginner or professional.
 
Bali, Indonesia – The wet season, which runs from November to March, is great for beginners and intermediates. It's best to surf on the East coast of Bali since the winds are almost always blowing from the East. If you're looking for less crowded waves under the warm embrace of the tropical sun, this is where you can go. Check out our recommendations in this post.
 
Oaxaca, Mexico – If you don't want to go all the way to Southeast Asia, you can always check out Mexico. It has one of the most famous beach breaks in the world, the Puerto Escondido. During winter season, south swells are nonexistent but beginners and intermediates can still catch northwest and west swells. For the best dives, read this post.
 
Sinaloa, Mexico – Surfing here is great all year long. Located in the Mexican mainland, the area attracts south and southwest swells, from hollow A-frame beach breaks to incredible world class point breaks. There's a wave for every surfer here: from the newbie to the pro. Read our best tips for where the waves are here.
 
Tamarindo, Costa Rica – If you're looking for consistency, the waves here at Tamarindo won't disappoint. It's perfect for beginners, intermediates, and advanced surfers. There will be some days that the swell will reach overhead and only the badass local Ticos will hit the water, but most days it's going to stick between 3-5 feet. This place also has an awesome party scene, so if you're going to mix surfing with partying, check this out.
 
So wherever you decide to go this season, I hope you get continue getting stoked by the waves you catch. Because really, the wave is whatever you make it. Just be mindful of your footprints and influence others to do the same. In this season of giving, nothing beats the gift of of awareness on how to help save the environment while surfing.

Happy Holidays!