Surfing England & South Wales - Our Top Three Picks For Surfing UK
Surfing England & South Wales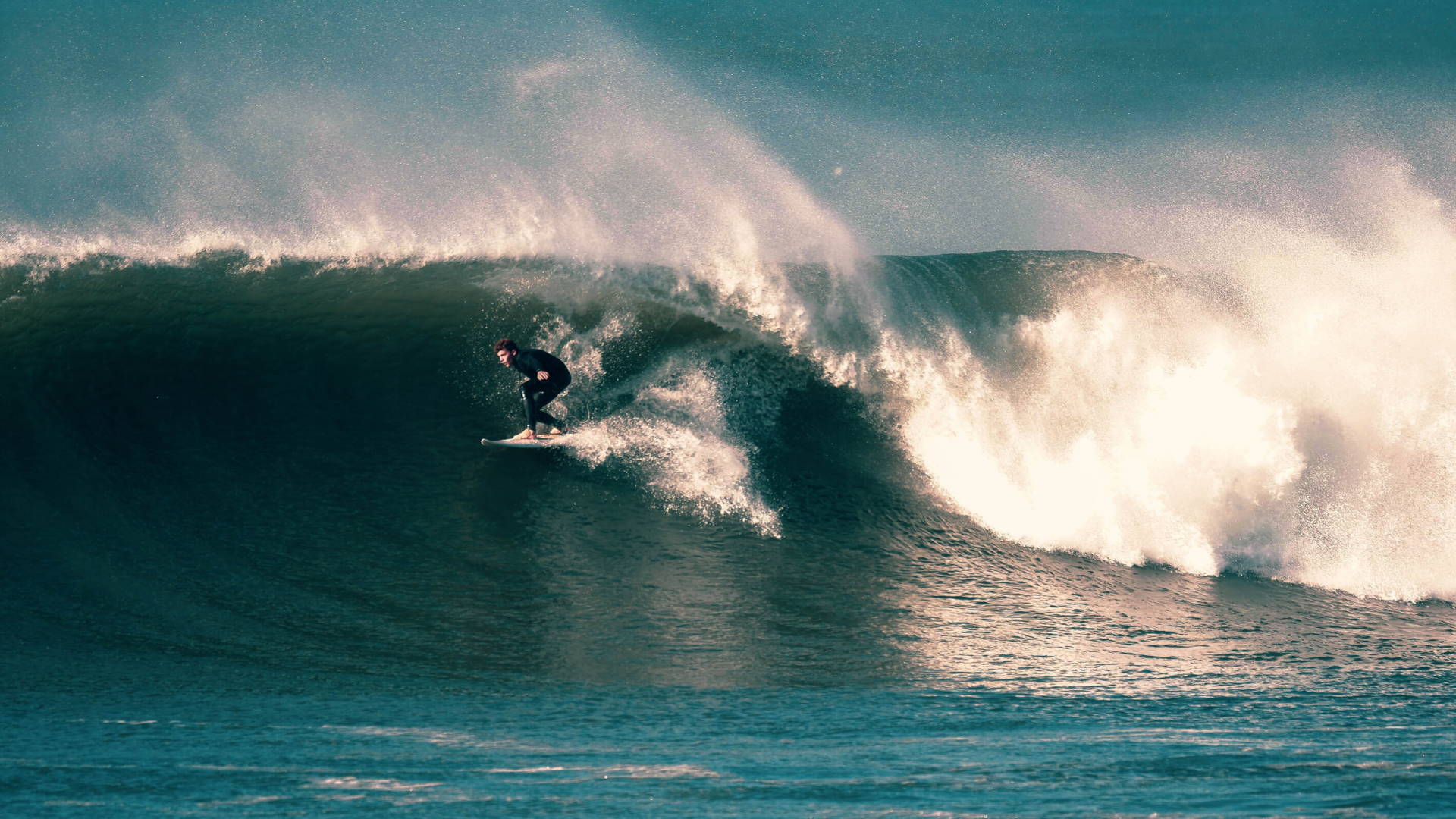 It might not be synonymous with surfing, or even known for its beaches, but the UK has some surprisingly good coastline for catching waves.
Growing up in Australia, I learnt to swim in the sea and developed an affinity with surf, sand, and sun that now runs through my veins. I'd never learned to surf back home. As a kid, I caught waves without a board and rode them till I hit the sand.
I figured I'd have to let go of my love for golden sandy beaches while living in the UK. Most of the celebrated coastline here comes in the form of pebbly shores that could wreak havoc on a board.
Arriving at Heathrow all those years ago, I never expected to fall in love with the waves here. You can imagine my surprise then when I came across my first 'proper' beach in Wales and then learned to ride waves in North Devon.
Some of the best beaches and surfing in the world are found on the UK's west coast where the Atlantic Ocean beckons. Let's jump into our top three picks for surfing England and South Wales.
Here are three favored spots for surfing in the UK:

We'll move from the northern part of the map at South Wales to the tip of England at Cornwall. It's about a 5-hour drive from London to get to the coast. Once you get out of London, the drive is fabulous. If you are from the USA remember that you'll be driving on the opposite side of the car and road.
You could easily make one of these locations a surf destination—you don't have to hit all three to have a great surf trip. However, if you got the time and are following the best waves, then it can be an epic adventure.
I have scored amazing waves in each of these locations and recommend the trip to anyone that loves to travel in Europe. You'll see parts of the UK most non-surfers would never visit.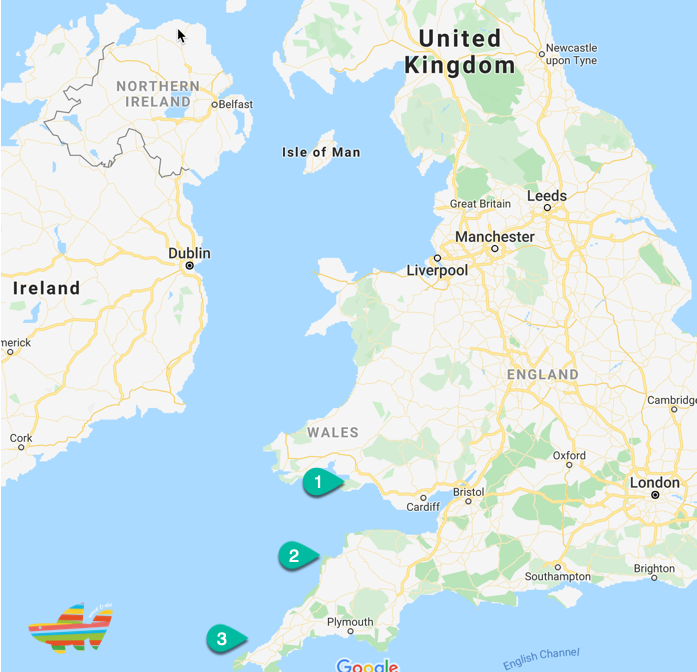 1. Gower Peninsula, South Wales
Gower Peninsula is where I was first introduced to a 'proper' beach in the UK. South Wales is home to some of the most beautiful beaches I have ever seen.
Oxwich, Rhossili, Caswell and the harder to pronounce Llangennith are great for consistent waves. Long stretches of golden sand will greet you. Oxwich is backed with miles of dunes and a nature reserve, but the far end of the beach is home to a campground, pub, and tiny village.
This is where the best waves are found. Llangennith, just around the point is rated as number six in Red Bull's list of the UK's best surf spots.
Personally I'm a fan of Oxwich, but that's mostly for sentimental reasons – it was here I discovered that the UK had real beaches. When the waves are being served, they're clean 3 – 4ft and hollow; so don't expect a long ride.
The best of the surf is at the far end of the bay where the hotel is. Longboarders love this beach and it can get busy in summer when the surf is right. The long curve of sand is an easy drive from Swansea but the surf is less consistent than you'll get around the point at Rhossili and Llangennith.
Llangennith is home to the most consistent surf for South Wales, but the paddle out is notoriously hard. You'll also find the Welsh Surfing Federation's surf school here and a hire shop for boards and wetsuits.
If the waves are looking too big and messy here, it's an excellent indication that the surf at Rhossili and Oxwich will be perfect.
2. North Devon Coast, England
Now the place I call home, North Devon is where some of the most dramatic coastline in the whole of the UK can be found. Littered with a range of great beaches, you might find British pro surfer Taz Knight catching waves here when he's not competing around the world. From Woolacombe to Westward Ho!, you'll find plenty of spots worthy of taking a board out to.
Saunton beach is my favored place for weekly surfs. Its three miles of golden sand has plenty of space for longboarders and it caters to surfers of all skill levels.
The best waves are at the northern cliff end where the car park is situated. It's backed by miles of dunes that have been designated as a nature park and they provide the perfect shelter for a BBQ after your surf session.
It's a chilled atmosphere here and the ideal surf is at mid to high tide when the wind is blowing in an easterly direction. If the surf is too small to play with, I'll head round the point to Croyde, Putsborough, or occasionally Woolacombe.
Croyde has steeper, more powerful waves thanks to the smaller cove that sits between two headlands. Perfect for skilled shortboarders, it's arguably the best performance wave in the Devon.
Easy to access with a couple or car parks at each end, like Saunton, there's a few surf schools and equipment hire places close to the beach. Waves are better at low tide and because it's a smaller beach, it can have a tendency to get a little crowded.
Woolacombe has been voted as one of the world's top 10 beaches numerous times by Trip Advisor. The 3 mile beach gets pretty packed in the summer months; probably as it's been recognized as a top surf spot since the '60s.
You can expect good waves on both high and low tides thanks to the reef break. There are multiple surfing competitions and other events held here through the year, too.
Known as England's surfing capital, Cornwall is where many a surfer heads for waves. Those in the know will make a bee-line for Fistral Beach, slightly west of Newquay on the far side of the town's golf course.
Here you'll find waves that range from gentle and inviting for beginner surfers to steeper and stronger with the winter swell. National and international competitions are held at this beach for good reason—the waves are consistently great quality.
You might find this beach a little crowded, or not challenging enough—particularly in the warmer months; if that's the case, you can head south.
Known for the right hander breaks and heavy surf, Porthleven is definitely a beach for pros! Expect powerful 12ft waves that go hollow fast to provide death defying drops.
On lower tides, you can expect a barrel or two but watch out for the rocks and jagged, barnacle covered reef that will tear you up if you don't know what you're doing.
If that sounds a bit too bold for your tastes, head north from Fistral instead of south and you'll come to the Bude beaches that seem designed for surfers.
On the west coast of Cornwall and taking the full brunt of the Atlantic swell, you have a number of different beaches to choose from here that suit all skill levels.
Crooklets is just a 5-minute walk from the center of Bude and offers fun, rideable waves all along the mile strip of beach and good rights and lefts throughout the tidal range.
It can get a little crowded being so close to the town, so if you're looking for less crowded waves, try heading to Northcott Mouth. This pebbly beach disappears at high tide and offers decent waves at low tide, too. It's difficult to access from the National Trust car park, that's why crowds are kept to a minimum year round.
If you're heading to the UK, I'd definitely recommend making time to check out the west coast's surf. It's damn chilly in the winter months so you'll want to suit up from head to toe.
Summertime is not too bad. Being a bit soft about the cold, I still suit up in winter neoprene leaving the boots, gloves, and hood off until autumn arrives.
Nearly all of the beaches mentioned above have close access to equipment hire stores. If you prefer to ride your own board, definitely check out the Wave Tribe blog about the different airline surfboard fees.
If you want to make the UK a surf destination, the only flights direct from the USA to this side of the UK are those that land in Swansea or Cardiff.
Other than that, if you fly to London Heathrow, you'll be looking at a 5-hour drive minimum before you hit the UK's Atlantic coast. See you in the water.
Guest Post by Victoria Womersley