Surfing Tofino Canada
Every good story starts with a friend . . .
That was it. No details discussed. No questions asked. He just told me I was going to be in his wedding and we hung up—guys are like that.
Quirky.
We'll get back to that story later.
I don't know where it came from, but I had always wanted to go surf Vancouver Island in Canada. It's not like me; I am in a wetsuit most of the year at home in Ventura, California. When I decide to travel, I normally lean toward tropical warm locations.
But this year we visited the epicenter of the Canadian surf scene where the word tropical equates to wearing a 4/3 in July. The opposite of tropical.
Tofino.
Yep, quirky name.
Tofino is located on the Western coast of Vancouver Island, a wonderful little town. Playful. Fun. Chock-full of surfing beaches, great restaurants, hot springs (love me some great hot springs) and dense rain forests.
♨️If you make it to Tofino, don't miss a trip to Hot Springs Cove.
Here's An Overview Of What You Can find In This Article: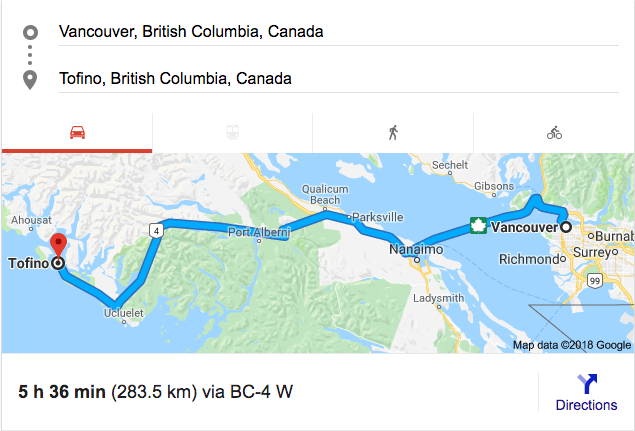 Fly into Vancouver (the city, not the island) and rent a car at the airport. The car costs $500 bones for a week, depending on your style and class (pun intended).
You could also fly to Victoria on the southern tip on V Island and drive north to Tofino (thus eliminating the ferry) but if you want to hang in Vancouver city (highly recommended) then you should follow the route below.
🚗Vancouver airport to Tofino is a 6-hour trip by car.
Drive 30 minutes to the ferry (make a reservation) and cross to Vancouver Island.
You want this route: Vancouver-Nanaimo (Tsawwassen-Duke Point).
There is a ferry in west Vancouver that also goes to Nanaimo, but if you are dropping the rental car at the airport after your trip, then the Tsawwassen ferry is the best option.  
The ferry takes 2 hours. Please note, when they say get there early to keep your reservation, they mean it. You could wait in line for 6-8 hours if you miss your reservation slot. Canadians are serious about their ferry reservations. I think it might be the only thing they are serious about.
Once you get to Nanaimo—pronounced na ny mo—put in the coordinates for Tofino and enjoy the 3+ hour drive along the lush lakes and dense mountainside canyons.
🏎️A word on catching the ferry back to Vancouver—give yourself plenty of time once you leave Tofino, especially if you have a flight to catch. On our trip, I had to drive like Mario Andretti to make the ferry. It was a life-threatening type of driving.
My good friend Axel, in the back seat, mentioned nonchalantly during the trip that I had been his role model for—ahem—adventurous driving skills. We had completed several surf trips in Mexico over the last decade. His wife, sitting next to him, grimaced. I felt both embarassed and proud in the same moment.
Tofino - Surfing, Eating & Sleeping
Tofino is a small tourist town at the edge of a beautiful inlet surrounded by rainforest and hopefully, some sun. The first thing you will notice is that it is full of surf schools. All types of surfboards are available for rent and if you need a thicker suit than you brought, they got plenty.
Places To Eat
I love surf trips because after surfing all day, you can stuff your face with good food and beer and feel fine about indulging.
My top three places in Tofino are Bravocados, Shelter, and Sobo. Get the pizza at Sobo, the veggie burger and cauliflower hot wings at Bravocados, and order anything at Shelter.
Local beer is served at all locations—get the local IPA, aptly named Tofino Brewing Co—you can also visit them just outside town.
Places To Stay
Book ahead if you are going in the summer—which is when you should go unless you like to freeze. When I booked our place (Central Private Funky Studio) on Airbnb about one month before the trip, there were only 2 places still available. You'll want to get as close to downtown as possible, or stay in the surf zone.
🏄‍♂️There is no surf in town.
You'll need to drive 5-20 minutes to get to the various breaks. We stayed in town, but I'd recommend staying out at Crystal Cove or Cox Bay. There are a bunch of condos right on the beach; you'll pay extra but it will be worth it. We paid about $170 a night to stay in town, you'll pay about $280 to stay on the beach.
Bays, points, and beach break. Within a 20 mile stretch, you've got access to many options.
The surf scene is growing in Tofino, with this small town being a refuge for those wanting a good wave to catch that stoked feeling with. Whether you're travelling with pros or you're tagging along some family and friends who want to try their hand at surfing, the surf schools in Tofino is worth checking out.
SURF SISTER
Surf sister was founded in 1999 with the intention of making the sport more inclusive for women. It remains, to this day, as the leading surf school with an all-female set of instructors to get you acquainted with the Tofino waves.
PACIFIC SURF SCHOOL CO.
Pacific Surf School Co. is one of the surf school in the Tofino surf scene that can get you started with your surfing lessons even without your own equipment since they've got a load of gears that you can rent out.
TOFINO SURF SCHOOL
The Tofino Surf School began in 2007 and is run and managed by its owner full time. The lessons they offer already include all the equipment you would need to get things started and they remove the fuss of having to go back to the shop to return everything. A good place to start for beginners who want to focus on staying on their board and catching some waves.
TOFINO PADDLE SURF
Tofino Paddle Surf is right smack on McKenzie beach and offers rentals together with their surfing lessons. They've got classes for beginner surfers as well as those looking to expand their knowledge and with 40 years of combined surfing instruction experience amongst their crew, they've got a good handle on how to get you steady on that board.
LIVE TO SURF
Live To Surf is touted to be the original surf school in Tofino. They've got a wide range of classes to choose from to suit your needs whether you're a beginner (they start teaching kids at the age of 13), a family, or someone craving some one-on-one coaching.
Cox Bay
Cox Bay is your go-to surf spot in the area, it is the closest break to town and a fine option. The headland offers good protection against winds. Cox is a huge beautiful beach, so there's plenty of room for everyone.
Long Beach
I grew up in the other Long Beach (California), so I was always curious to meet my Canadian cousin. Technically, it is the longest sand dune on Vancouver Island, stretching for nearly 10 miles. Lots of room to get lost. Lots of room to find waves. I thought the wave at Cox was better, but every beach has its day.

Florencia Bay
I absolutely love this place—you drive in through thick rainforest and climb down a wood-laden path to a majestic beach. Word on the street is that it loves a good south and also has the reputation for protection from the wind. Though it wasn't epic when I surfed it, I still loved the place and the experience. Take your girl here, she will thank you later (hint, hint).
Hot Spring Cove Trail - 45 Minute Amazing Walk To Hot Spring At End
I arrived at my Canadian bro's wedding and I was like, 'ok what do you want me to do, serve the beer and usher the guests?' Which meant, drink beer and talk to hot chicks.
He looks me in the eye and says, not quite.
He pulls out a ring and says, "Dude, you are my best man, you need to hand me this ring after I read the vows."
Like I said, quirky, but in a good way.
Have a great trip!