Surfing Puerto Viejo Costa Rica & Salsa Brava
Surfing Puerto Viejo Costa Rica & Salsa Brava
Did you read In Search of Captain Zero?
If you did, then you know all about this place—if you didn't read this book but plan on visiting this side of Costa Rica then you know which book to read next.
Puerto Viejo, also know as Puerto Viejo de Talamanca, has been home to some of Costa Rica's most legendary surf competitions, parties, and cuisines for decades. As you walk around this Afro Caribbean town, you soon realize why so many expats and Ticos have been calling this place home for so many years.
Dozens of beach cruisers line the beach, creating a homey atmosphere for vacationers and surfers alike. Though Salsa Brava has been famed as one of the biggest waves of the Caribbean side, Playa Cocles usually dishes out powerful waves at the beach break.
Only the most experienced of surfers should hang around Salsa Brava, because this reef has been known to rip inexperienced surfers apart with it's notorious "cheese grater".
The last thing you want while surfing in Puerto Viejo is a trip to the hospital, so don't test your limits at Salsa Brava unless you truly can handle a fast breaking left. If you do try it, which you should, look for the keyhole in the reef to paddle out or just follow a local.
One of the most important things you need to remember as a foreigner is that though you may be a rad surfer, the locals in Costa Rica have been ripping these breaks since you were in diapers. Though the majority of Tico surfers are going to welcome you with open arms into the lineup, beware of dropping in on an old timer because they will put you in your place.
As one of the biggest tourist destinations in the country, Puerto Viejo has a considerable amount of surf tourists. As long as you respect your elders and wait your turn, a day on the waves in Puerto Viejo can be an unforgettable experience.
From my experience in Puerto Viejo, you either want to party, surf and party, or surf and party, and party. The whole town comes alive at night, so don't be surprised if you end up watching the sunrise with your crew.
Though I wouldn't say the waves were exactly what I expected, I'd admit that they were fun. If you're in Puerto Viejo when conditions are choppy, you best be in good shape because the current is typically pretty strong.
This video show the wave at Salsa Brava at it's best:
Surfing Puerto Viejo, Costa Rica
Here are the information you'll find in this guide that can help you plan your next trip to Puerto Viejo & Salsa Brava:
Surfing Salsa Brava & Playa Cocles Puerto Viejo
🌊 Best Season: November-April | 🌊 Best Swell Direction: Northeast
Salsa Brava is considered to be the biggest break in all of Costa Rica. This Caribbean style wave works the best during the dry season (Nov-April). Known for claiming an excessive amount of "sauce" each year, Salsa Brava takes a considerable amount of broken boards, bones, and gnarly cuts each day—beware of the shallow reef.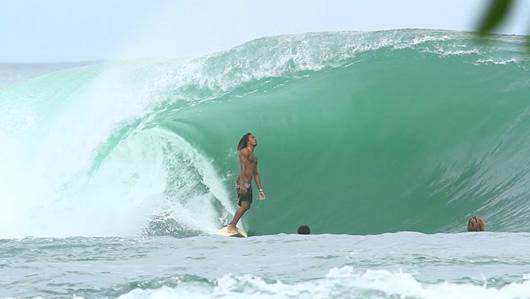 There are a few different take off points at Salsa Brava, but the North Peak is by far the most popular for surfers looking to get uber pitted. Though the reef at Salsa Brava broke a few years ago during one of the area's earthquakes, you'll still see huge days there, just not nearly as frequently.
Let's check it right now . . .
The wave holds its size under most conditions and is probably going to be best when the report is head high to overhead conditions. When a south-east swell is in and you're getting western winds, chances are you'll find yourself barrel hunting at Brava.
Once again, beware of the shallow reef, which has been known to destroy surfers of all skill levels. Playa Cocles is your best bet when Salsa Brava isn't working.
Cocles is only about a 10 minute walk from Salsa Brava, or 2 minute bike ride. Cocles hosts a ton of surf competitions each year, so if you can catch one of these events, they truly are a great time to be in Puerto Viejo. Lots of surfer after parties and late night shenanigans with the locals. Similar to Salsa Brava, Cocles best conditions come out when it receives a head high to overhead swell from the northeast.
But if the seas are choppy, Cocles doesn't work very well. While I was surfing Cocles, we had shit north winds and gale warnings, so surf was iffy. If this happens, my best advice is to either wait it out, or head down to Panama.
Surfing Playa Negra Costa Rica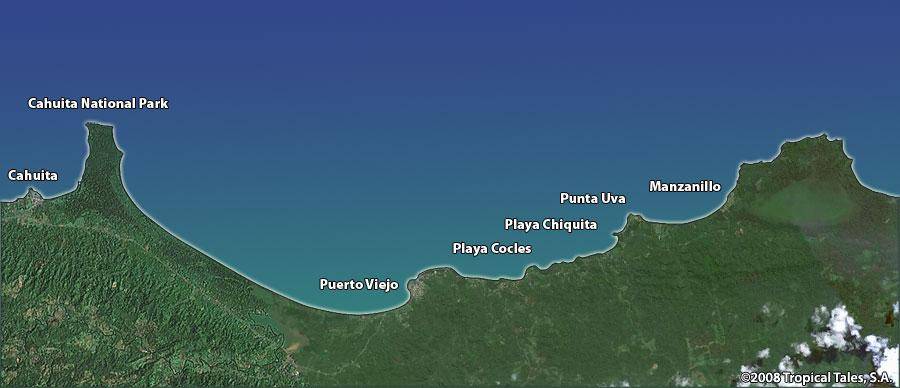 Map of Puerto Viejo Coastline
Playa Negra is perfect for people who want to surf while they're in Puerto Viejo, but don't want to have a date with Salsa Brava's cheese grater. While I wouldn't recommend Negra for experienced surfers, if you're just starting to learn to surf, taking a lesson in Negra is a wise decision.
Snorkeling, swimming, and diving is popular over in Negra, but you'll catch a few 2-3 footers if you're there on the right day.
Puerto Viejo Costa Rica Things To Do
Puerto Viejo is a huge fan favorite for tourists, mainly because it has a very unique vibe that you simply cannot find anywhere else in Costa Rica.
The town was originally called Old Harbor until the Costa Rican government institutionalized Spanish as the new local language and changed the names of the towns and landmarks in the area from English to Spanish.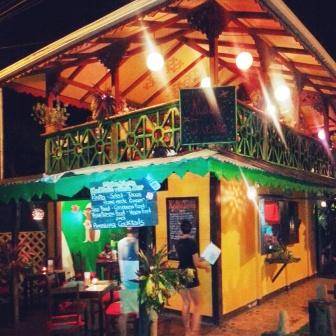 Madre Tierra Puerto Viejo
Though the true barrel hunting surfers prefer to hang out on the Pacific Ocean, Puerto Viejo's Afro-Caribbean vibe is rad. As you walk through the center of town, you'll see Rastas shooting dice, playing checkers, and selling the best ganja in the country.
Everything in Puerto Viejo is going to cost significantly more money, but a lot of the time it's worth it. There's a ton of Jamaicans that migrated to Costa Rica's eastern coast, so the food that's served up is super authentic.
If you see any chubby Jamaican ladies serving up Caribbean Jerk and Jamaican marinated chicken, I highly suggest you buy as much as you possibly can.
Puerto Viejo is set up to cater to tourists of all budgets, interests, and ages.
So, obviously there's going to be a lot to do while you visit Puerto Viejo. You'll find a variety of bars that cater to just about all styles of music, but mainly you're going to find super swanky Reggae clubs that have been dishing out Jamaican tunes for decades.
One of the local favorites is a place called Lazy Mon, which hosts fire dancing shows and other live musical acts. Tasty Waves Cantina is another great place to get your buzz on in this little surf bar.
And of course there's Johnny's Place, which is the area's long standing dance club/bar. A lot of fun ensues at Johnny's place—from the shenanigans at the bar to the roots, rock, and reggae vibe of the dance floor—you'll have a great night here guaranteed.
If you're looking for a hostel type party with a bunk of beautiful surf babes, then head down to Rockin' J's and you'll find a party, especially if it's a full moon. Everyone loves to ride beach cruisers here and it's almost necessary if you want to truly feel the energy of this little beach town.
The town has a lot, but isn't too spread out, so you're able to really see the entire thing quicker if you have a bike.
Remember to lock bikes there's a ton of bike theft in Puerto Viejo.
It's also super nice to just cruise around on a beach cruiser when you're waiting for the tide. Puerto Viejo is without a doubt one of the most unique parts about Costa Rica, because the atmosphere is very Rastafari, praise Bob Marley and groove down to some late night Reggae.
Where To Stay Puerto Viejo Costa Rica
The Lazy Mon: This is one of the areas most hopping bars when the sun goes down and I'm pretty sure you can get hostel style-dorm beds for around $11 per night. You can also request a personal room, but I'm not sure how much they'd cost you.
They have a good restaurant here, but if you want to sleep, you'd be better off finding a house rental or hotel.

Rocking J's: Rockin's J's is without a doubt the largest and most expansive hostel I've ever seen. You can rent hammock for like $6/night, or set up your own tent or hammock for something around $4.
There are also dorm beds, private cabanas, honeymoon shacks, and bunch of other pretty awesome hostel accommodation. I would by no means say this place is the clean, petite, boutique style hostel though.
It smells like beer, people party until 5 a.m. every night. There are no quiet hours, and if you stay here, you're going to party super hard.
There's a restaurant and bar at the hostel, but obviously you can bring whatever you want into the hostel.
Staff is super laid back. So, they know you're probably just a bum surfer who wants to drink rum & cokes, meet babes, and get stoked out of your gourd.
La Ruka Hostel: Another great hostel in Puerto Viejo, but with a much more laid-back, relaxed vibe than a place like Rocking J's. This hostel is more family-friendly, but there's definitely a ton of backpackers here.
It's much smaller, cleaner, and less "touristy" than a lot of the other hostels of the area. It's located just down the road from Salsa Brava and about a 15-minute walk from Playa Cocles, so you really have the best of both worlds at La Ruka.
Bunks cost $10/night and private rooms are $30/night.
Hotel Banana Azul: Though there aren't too many hotel options in Puerto Viejo, there are definitely a few available for travelers that want a bit more comfort during their vacation. Banana Azul is one of the places I'd recommend to surfers that have a little more budget to work with.
A pretty cool guy from Vancouver owns this place with one of his buddies from Peru, good bunch and they offer a great place for surfers and vacationers to stay while they're in Puerto Viejo.
More can be found here on Trip Advisor.
Puerto Viejo's Location As Shown on Google Maps
Puerto Viejo is a great surf destination if you like to party, or if you arrive during the right time of the year. There's a ton to do here, from surfing gnarly reef breaks to watching spun-out fire dancers perform at local bars, I guarantee you'll enjoy your time in Puerto Viejo.
One thing to remember is that this is a tourist town, so a lot of your expenses will be higher than if you were to vacation in a more remote destinations. The entire atmosphere of the town is surrounded by Rastafarianism and reggae, so if you are uncomfortable with either, you'll hate it.
But, if you're like 99% of the world, you'll find your vibe in this little party-heavy town in the Caribbean mon—and don't forget the words of Bob Marley,
"Life is one big road with lots of signs. So when you riding through the ruts, don't complicate your mind. Flee from hate, mischief and jealousy. Don't bury your thoughts, put your vision to reality. Wake Up and Live!" (and surf).
If you like Bob, here is a great live concert recored at the Santa Barbara bowl—just up the road from the Wave Tribe headquarters.
Puerto Viejo Costa Rica Maps