Surfing Chicama, Peru - The Longest Left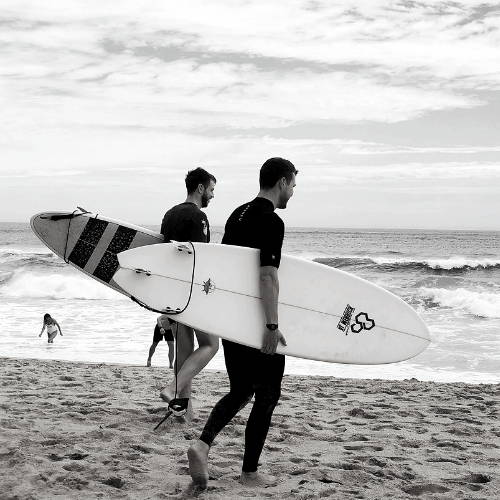 When it's firing, it's close enough. When it's merely working, it calls to mind Kelly Slater's Surf Ranch, a mechanical wonder built to help you learn to surf at the next level. I caught a little bit of both – the longest lefts of my life and plenty of schooling.
Here are the things that you'll find in this article:
Chicama's not often working at its best: south or southwest swell anywhere from 6 to 12 feet. But it's continually working, catching southerly and westerly swells of a meter or more, and pitching them up to be sculpted by nearly constant offshore winds.
There are four breaks and gaps between them, so it's not the one wild ride you might be picturing that would be Pacasmayo to the north. But the fast, long, and challenging little left we found at the main peak, El Point is blissful.
It's most consistent during South America's winter months from March to October. Magic Seaweed's monthly overview estimates that average swell heights are four feet from November to March and about five feet from April to October—with one exception. June holds an average of 6 feet, that number where Chicama magic carpet rides dreams start coming true. 
Swells of this size begin linking the last two peaks, sending you driving hard to make speedy, hollow, and feathery sections along a kilometer or two of desert coastline.
There are bigger, more consistent waves nearby, but Chicama is unique, laidback, and great for learning. The best days we got were well worth waiting for. We're both mid-level surfers, and Chicama held its reputation as a great spot to progress. A small to a mid-sized day at El Point offers a ton of mileage on fast takeoff, followed by a race to dodge a few possible closeouts before it settles into a perfect peeling pace.
It's like surfing on Mars. Receiving less than an inch of rainfall a year on average, the landscape defines stark. Since the cold water often throws up a fog cloud, an additional eerie quality is common among the breaks.
The wave is fascinating and is probably the only real reason to come to Puerto Malabrigo, aka Puerto Chicama, which makes it another sort of magic. Even as the wave gets more popular among surfers, tourism isn't crushing the town. It still feels intact— run by and for locals. They don't need you here, so their friendliness isn't bought. It's just there, or it isn't.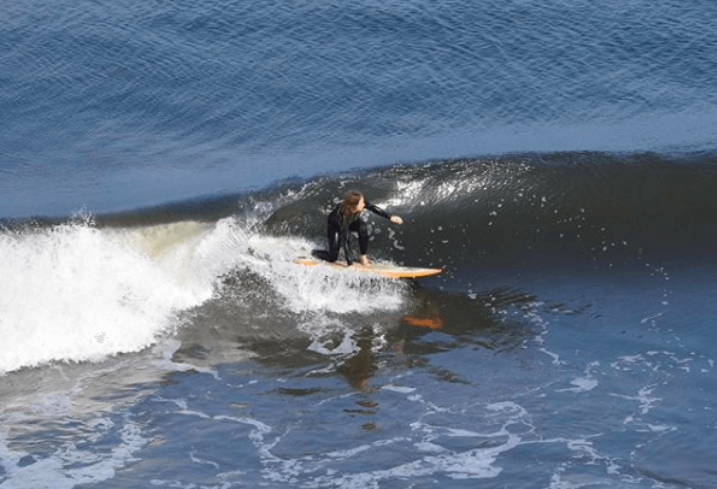 Fast waist to shoulder high waves keep everyone happy through the summer months. Photo by: Chicama Surf Photographer
The wave works best when south or southwest swells move north towards the coast of Peru, sorting into corduroy rows before wrapping around the bay's jutting southern jaw. Westerly swells work as well, marching straight into the mouth of the bay. 
Chicama has four breaks, and the last two start to merge into the one really long and challenging ride at around 6 feet.
The whole Humbolt seems to march into and around this bay, and the strong current makes paddling out after you peel off a wave futile. It can feel impossible to maintain your place in the lineup on big swells and is tiring even in moderate to mild conditions. 
Some avoid the pain by hiring zodiacs. Everyone else fights as long as they can to catch a wave, then they wash up on shore to take a 30 or 40-minute walk back to their break of choice.
Malpaso
Malpaso is the first point that stands the swell up to face you. This spot sees the most size and is a good bet for small and west swells. However, you might want to hire a boat to access it. It's a fast start that backs off a bit when it hits the sand and then peels for about 150 meters. Malpaso is the shortest and most challenging to access wave in the bay, explaining the general lack of enthusiasm that people have towards it.
It's a full 4 km from Malpaso to the mid-bay pier that marks the end of all possible rides, and no one wave will get you there. If the whole set up is working, you can catch a series of them as the current pushes you along the point's serrated blade and into the bay.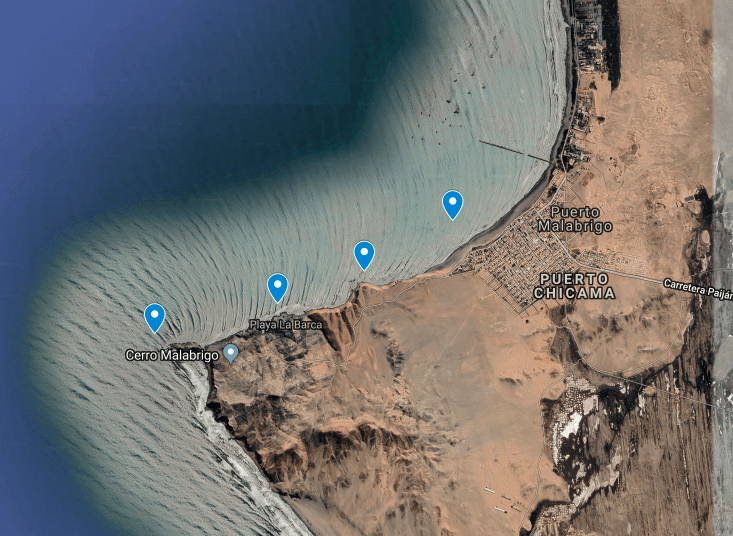 The four beaks of Chicama, from left to right - Malpaso, Keys, El Point, and El Hombre.
Keys and El Cape
The second break is known as Keys or El Cape. This spot has two takeoff zones tucked into the swell shadow of Malpaso, so they never connect. It's also tucked behind the bluff that runs from the hotel block to El Point. Because of this, it's the most sheltered spot if offshore winds start to blow the waves apart. It takes a half-hour or so to walk there, but the ride is well worth it.
One of the two peaks sits above an intimidating rock, but it's harder to hit it than it looks. It won't be an issue for experienced surfers, and nervous intermediates could tackle it with the help of one of two things: a local surf instructor or confidence.
Keys was only working one day during my trip, and it happened to be the day that I felt like a death in my hotel room.
A quick side notes: Don't drink the water without purifying it and be careful when eating out. Trust me on this.
So I checked with Katia Sousa, casual shredder and co-owner of Surf House Chicama, to learn more about the wave. She's a fan, calling it friendlier and easier to read than the lock at the main break, El Point. When it's small, it's soft and, according to Sousa, sweet.
Keys curling down to El Point. Photo by: Mikey Wier
El Point
Keys can also deliver you 500 meters down the cape, within striking distance of the main break, El Point. El Point is the business, producing the wave that can steamroll for almost two kilometers in the right conditions.
On a big swell, it can take you to the pier, and if you can make the fast takeoff, hang on for a kilometer to El Hombre, shift into hyperdrive, and keep it up for another 800 meters. By then, you would have won Chicama, and maybe even life.
That only works if El Hombre's sandbars line up, and it's all exceedingly rare. But El Point makes it easy to be a happy loser. Even when running waist to shoulder high, the wave is fast, challenging, and fun.
Its speedy start slows when it gets tangled in a sand bar or two, tripping you up on a few closeouts before curling down the line for what feels like days.
Pros will get in miles, while intermediates and beginners will receive free lessons on positioning, gaining speed, and reading and responding to a wave that transitions from fickle to perfection if you can stick with her. Size diminishes as swell works through each break and the point, and El Point rarely sees overhead sets.
El Hombre
Local kids like to post up at El Hombre, the 4th peak. It's just offshore of El Hombre hotel and the rocky tidepools where adult locals forage at low tide. Here the reef and sand bars buck up a fast, hollow, and sometimes barrelling wave. It can line up to the pier but is often a fast, furious, but less glorious ride.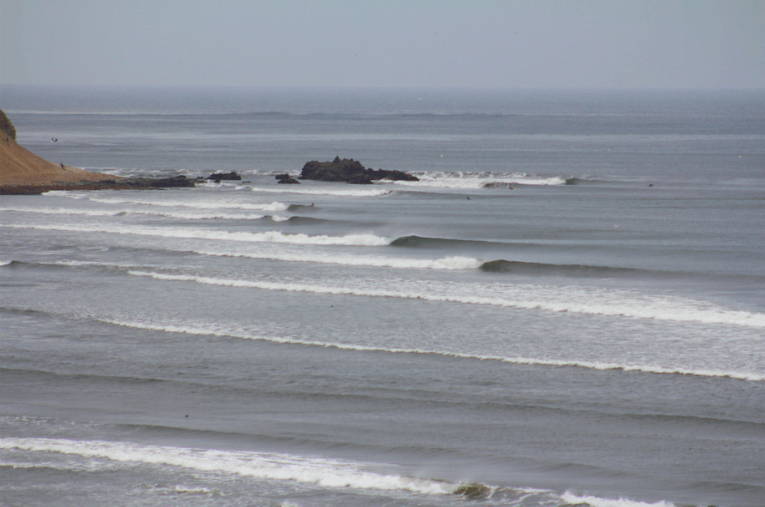 El Point turning on. Photo by: Mikey Wier
When giant swells in the Southern Ocean catch South America's southwest corner, most storm through Cape Horn. A sliver diverts left, pushing north along the coast and forming the polar cooled Humboldt Current. 
Compounding this chilling effect, prevailing winds push surface water away from the shore, and frigid, nutrient-dense waters rise to replace it. All this is to say, bring a wetsuit, or plan on renting one. (Ladies, you'll have fewer rental options. Call ahead or better yet, pack your own.)
When I asked Katia Sousa how she would describe the swell at Chicama, she told me, "imprevisible, unpredictable." The southwest, long-period swells that work best are most common between March and October, but locals get surprise gifts, like last summer. Chicama summers usually see swells from the north that just don't work. But the summer of 2018 was great.
According to Sousa, the swell usually ranges from 1 to 2.5 meters. You might see 3 or 4-meter waves at the outside point of Malpaso, but it doesn't make it inside El Point. She checks conditions at Magic Seaweed, Wind Guru, and Stormsurf and goes with whichever gives the best one. Might as well be optimistic.
There are bigger, more consistent waves nearby, but Chicama is unique, laidback, and great for learning.
— Clark Tate
Chicama is a remote, world-class wave with no crowds, so naturally, it's getting more popular. The word's out that it's a great place to learn to surf, and surf camps and beginners are taking notice. Another growing contingent is the hydrofoil crowd, drawn by the promise of an endless wave.
When all the takeoff zones are working, the lineup quickly disperses as surfers make their way down the point. But when Malpaso or El Point are the only places to be, it can feel crowded.
Board Selection and Rentals
A wide range of boards work here, and it's a good place to try out a new shape. "Chicama isn't a place just for a longboard. That's a big mistake. It's a perfect wave to improve a lot on a shortboard.", says Sousa.
There are a few places in town to rent boards. Surf House Chicama has a pretty good selection of short or hybrid boards with many volumes, making it easier for newer surfers to catch waves. 
They also have wetsuits for rent, but keep in mind that they have limited options for women. There's also La Ola Mas Larga Del Mundo Surf Shop and Chicama Surf Shop.
Surf Schools
Several tour companies will take you to Chicama and give you lessons and boards. If you show up on your own, a couple of local instructors speak Spanish and conversational English. Ask at your hotel or check with Sousa at Surf House Chicama for more details.
Souvenirs
There are currently at least three guys taking surf photos from the bluffs. If you do decide to go, ask for Wilson Flores, Gian Carlos, or Jesus Zorro. They'll provide you with some precious reminders of mind-blowing days in the water.
Visa
According to the U.S. State Department, a free tourist visa is required to visit Peru, and it's issued at the port of entry. A yellow fever vaccination is recommended, especially if you're planning to do rainforest travel as well. I got a free one in Ecuador.
NOTE: As of July 18, 2019, the State Department issued a Level 2 travel advisory for Peru, asking that travelers use increased caution and avoid several regions of the country.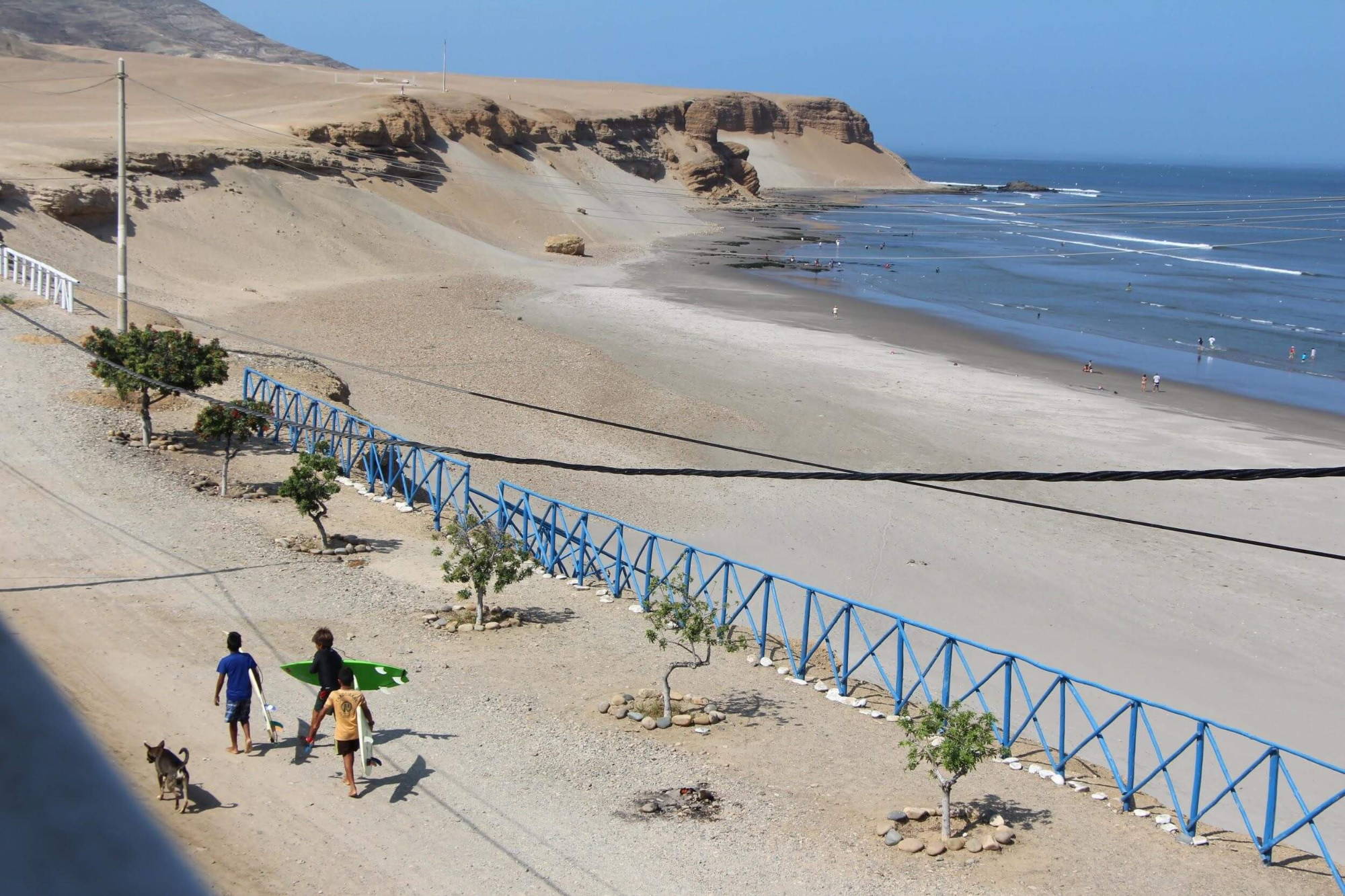 Locals are foraging at low tide take advantage of an uncrowded day at El Point. Photo by: Clark Tate
Accommodations
We stayed at Surf House Chicama with Sousa, who has a wealth of local knowledge. The simple and clean accommodations are reasonably priced, and the place features a communal kitchen. The front is a four-story building with five ocean view guest rooms, and there are five bungalows at the back. That's only ten rooms in total. They sell out often, even in the least consistent summer months of January and February, when many Europeans fly down to avoid winter.
As of September 2019, Surf House Chicama charges 160 to 300 soles ($48 to $90) for an ocean view room for one to four people and 85 to 250 soles ($25 to $75) for an "eco" bungalow in the back.
There are a handful of other hotels available. A few are in town, but the most desirable ones are clustered on the bluff overlooking the break. The Chicama Boutique Hotel is a fancy option. It's nice, and you'll likely spend enough time resting between sessions that you can rationalize the high-class accommodations.
We showed up in the offseason years ago and quickly found a room, but popularity is increasing, which means booking early is a good idea if you want to have choices.
Eat
According to Sousa, finding a place to eat is easier than ever before— which isn't saying much. According to the world wide web, Burgers & Brownies Chicama may be a good option. They have burgers, pizza, smoothies, and (shock) brownies.
It wasn't around when we were there. We mostly shopped at the small but sufficient local market and made simple meals in the communal kitchen. If you want to splurge, the Chicama Boutique Hotel's restaurant has cocktails and elaborate seafood dishes.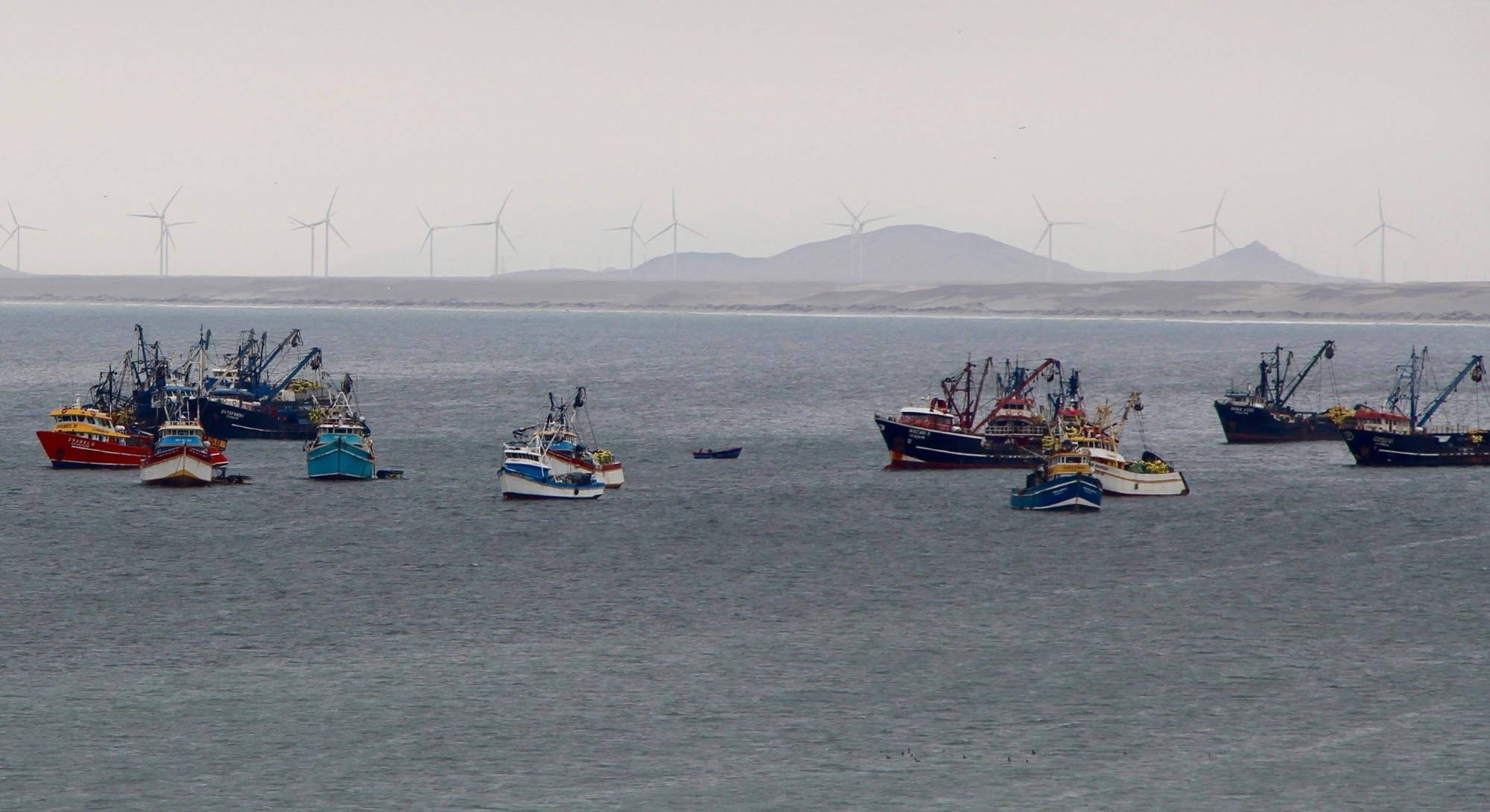 A wind farm harnesses nature's power on the north side of the bay. Photo by: Clark Tate
The Walker Circulation governs typical, alternating patterns of high and low pressure over the Pacific and is responsible for the high-pressure zone over Peru. Under these conditions, Chicama sees almost no precipitation but plenty of foggy grey days.
However, El Niño shoots all that to hell. When the easterly trade winds and equatorial currents hold a mass of warm water in the Eastern Pacific weaken, that pile of warm water rolls back across the ocean. The warm water brings rainfall that the arid region is ill-equipped to handle. According to the U.N.'s Food and Agriculture Organization, that's some bad news since El Niño events may become more common due to climate change.
Water Quality
The factory in the middle of the city makes protein powder from fish scraped out of the ocean by trawler nets. The story we got is that it's largely for pet food. There's an outflow pipe that extends to the middle of the bay. It's a significant source of discoloration in the bay on some days. It doesn't usually demand attention, but we were surfing in suspended organic particles when the current shifted. Sousa says this only happens a couple times each year. We just got unlucky.
Before the factory was built, those boats caught fish for people to eat. The United Nations seems to think that it would be better to create food security in the region.
We didn't notice much trash or plastic, which was really refreshing, especially coming from a New Year's celebration at Huanchaco, during which I surfed with a lot of plastic and somebody's pants. But, if you head up to Keys or beyond, expect to see lots of washed up, desiccated marine animals. We saw a leathery dried dolphin and sea lion carcass, which we presume were pushed by the current into the shore.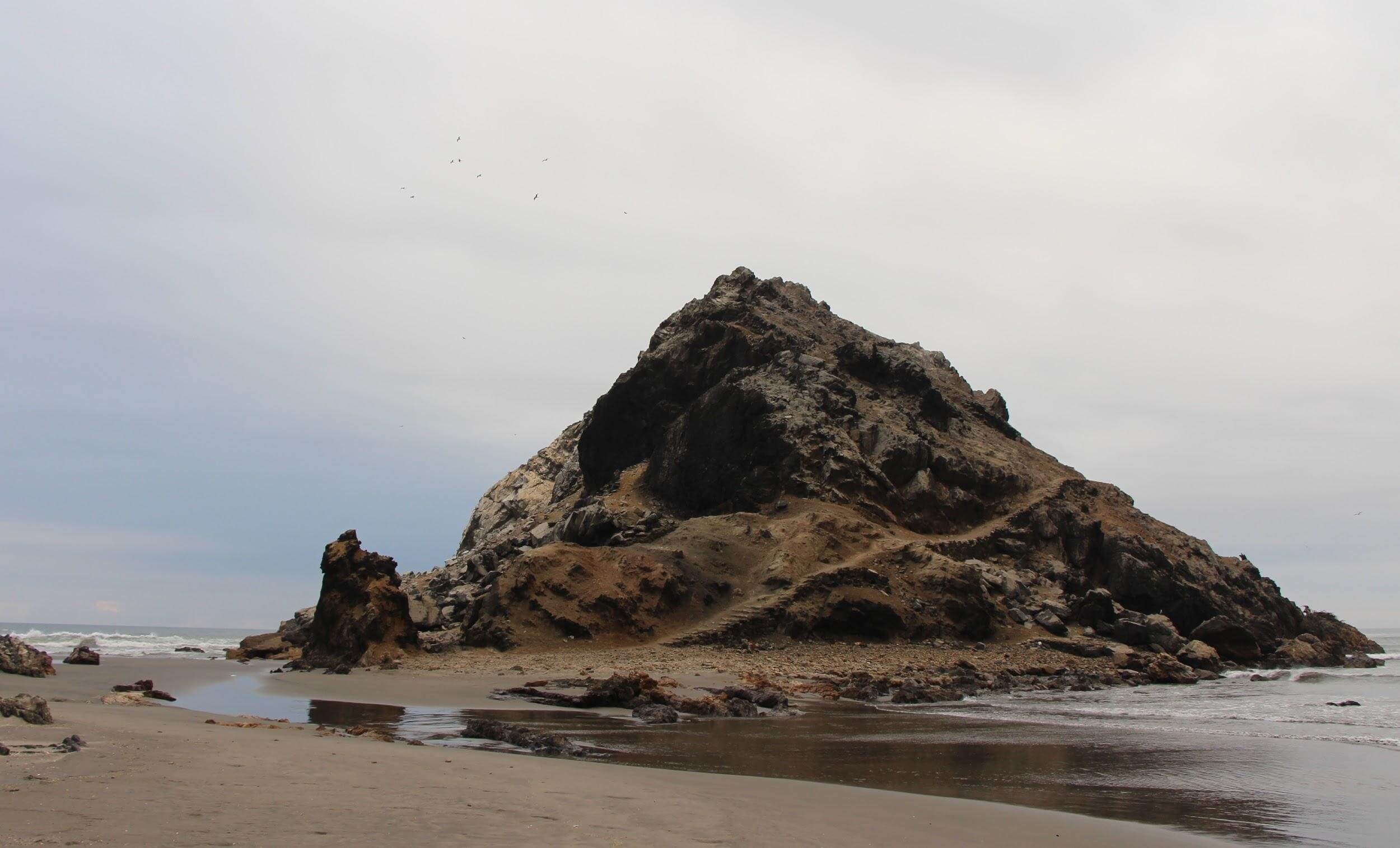 You can see the obvious path around the mini-mountain by Malpaso. It smells like the guano that the locals mine here, but topping out gives you a closeup view of the local frigate birds. Photo by: Clark Tate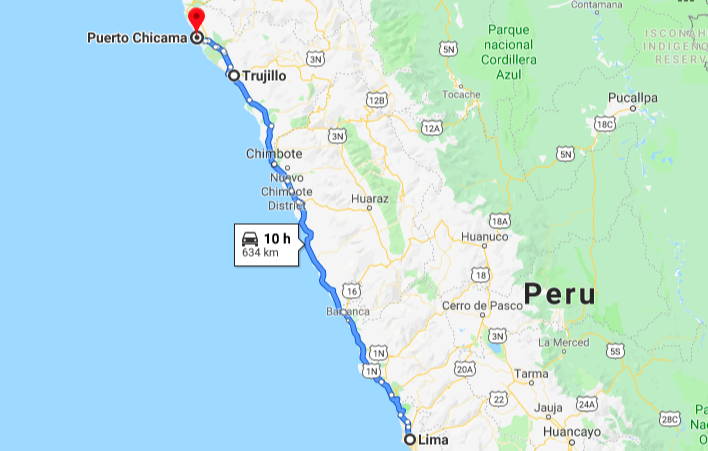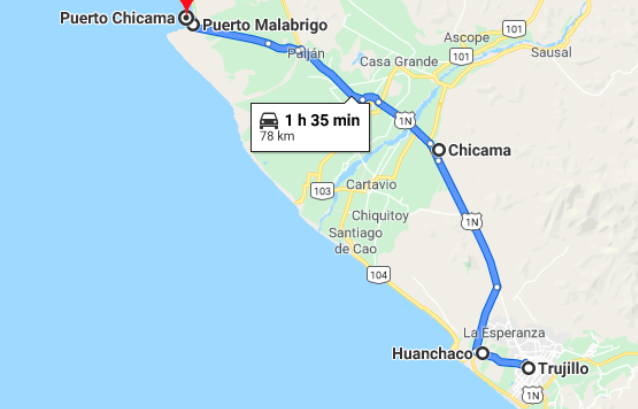 It's a long way from Lima to Chicama. Young dirtbags might want to bus it, older travelers with less time and money might opt to fly to Trujillo and bus or hire a car from there.
The easiest way to get there is to fly into Lima and catch a bus or flight to Trujillo; you can get another bus or rent a car to Chicama from there. South American buses are famed for their relative comfort and low prices.
They seem like an obvious and economical choice for trekking north along the coast. If you've got time constraints, a bad back, or are a finicky sleeper, you might want to hop a short flight.
Either way, you usually end up spending at least one night in Lima. The area around the airport is dangerous, even for locals. To avoid it, plan ahead to get a safe ride to a good night's rest before catching a flight to Trujillo.
Try Miraflores, the super touristy zone, or Barranco, a little shadier and less expensive. San Isidro is friendly but costly and mostly geared towards posh locals. Once you post up in your hotel, it would be a good idea to check the swell.
If possible, be flexible with your travel plans out of Trujillo since 100 miles of coast around Chicama offers up tantalizing surf. If you're a new or intermediate surfer, you'll probably have fun heading straight to Chicama because it provides a rideable wave more often than not. If you want to find the biggest, fastest, and best ones, chase the swell; otherwise, just head to Pacasmayo.
From Trujillo, there are buses to Chicama, or you can opt to hire a car. We found a shopkeeper's husband willing to drive us on New Year's Day to let his son surf. The point being, it's not that hard. It's a long drive through an arid desert, but there is a river valley oasis about halfway. You drive by a lot of walls fencing in a lot of nothing. It's interesting.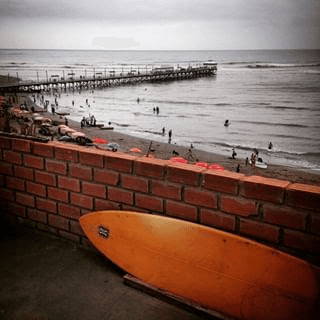 These photos sum up the differences between the walk to Chicama (left) and the walk to Huanchaco (right). One is a short slog through the sand, the other a walk along a narrow beach or bustling road. Just an hour away from one another by car, both are susceptible to gray days featured at right. Photo by: Clark Tate
There are plenty of breaks north and south of Chicama, some of which are much more consistent. Huanchaco and Pacasmayo are probably the best known. Huanchaco is just northwest of Trujillo and is in a bigger, more raucous town than Chicama.
Locals make small fishing boats called Caballito de totora, or little reed horses. They've used these to break through the waves for about 2,500 years. They claim original surfer status, and they deserve it. If you're looking for nightlife, you might want to hang out here too.
The wave is pretty awesome and was named a World Surfing Reserve by Save the Water Coalition in 2013. It's a consistent, sand-bottomed left, and it works best from March to October. But there's almost always something to ride there, even at other times of the year. We surfed Huanchaco for a few days but preferred the chill, surf-centric scene of Chicama.
Pacasmayo is the next hooked bay up the coast from Chicama and is the northernmost left in the La Libertad region. It's always bigger than Chicama— it can hold much more size and doesn't have gaps in between peaks. Many claim it's a more extended wave. If Chicama is a surf school, then Pacasmayo is a Ph.D. in surfology.
Guest Post by Clark Tate