Top 5 Things For Surfers To Do When It Is Flat
I am tired of seeing the word ANKLE in the forecast.
I love ankles, just not on my surf reports.
It's been flat for days and I am starting to go a little crazy—estoy loco cabron!
Not only did I start to have some deep depression set in during this flat spell, but my bros also started to go bonkers.
I got this text last week . . .

Just to be clear, as a general rule, we don't drink scotch 🍼midday.
Of course, I am barely holding it together over here and now I got to hold up my posse too—things are starting to get rough.
Keep Your Clothes On
When you love surfing as much as I do, you have got to find some healthy alternatives to surfing when it goes flat. Lord knows I got plenty on unhealthy pursuits that won't make this public list. Shame.
Here is a link to the suicide prevention foundation in case you need it. I am not kidding, you might need it if this flat spell gets any longer.
Ok yea, I had to keep this post PG in case any of my illegitimate children happen to stumble on my prose after searching the #whoismydaddy hashtag. We all know what number one on this list should be.
No, it's no shuffleboard. Nude shuffleboard, maybe.
This is my list to help remind myself—and you—that we can make it through the deep, dark, depressing flat spell together. Maybe.
I imagine how sick the waves are going to be and all the beautiful people that I am going to meet and this puts a smile on my face. I forget it's flat—until I don't.
— Derek Dodds, Wave Tribe Founder
This is my most go-to activity when the surf is flat. I have an Evernote file with the following questions ready to fire off on my brain cells at a moments notice.
Frothing . . .
Where am I going?

When am I going?

Who can go with?

How much does it cost?

Can I go now?

What's my current credit card balance?
That last one is really the only thing I need to know for sure.
If you need some inspiration, just check out our blog with a ton of surf trip articles.
I like this exercise because it gets me stoked on the surf and helps me get my butt into gear and do the necessary planning: buy ticket, book hotel, arrange transport, etc.
Then I imagine how sick the waves are going to be and all the beautiful people that I am going to meet and this puts a smile on my face. I forget it's flat—until I don't.
2. Go For A Hike - Get Outside
Funny thing is, I did this one today. I live in Ojai and rarely walk in the mountains around this gorgeous valley because I am usually heading toward the coast.
But damn, hiking is pretty cool.
I throw on a podcast (Joe Rogan) and listen to something inspiring for part of the journey. Then I take off the headphones and just be with nature for the rest of the sojourn. Om Shanti biaches.
I think about shit.
Also, hiking in the hills is great for your surfing as it helps build your quadriceps (quads). Your quads are the largest muscle in the body and they are vital for throwing big turns—which I love to do.
Here is a shot of post fire-scorched hills (life is emerging) from today's journey . . . I know, it's not that exciting but if you saw these hills after the fire you'd be stoked—not surfing stoked, but more like a tiny little hiking stoke.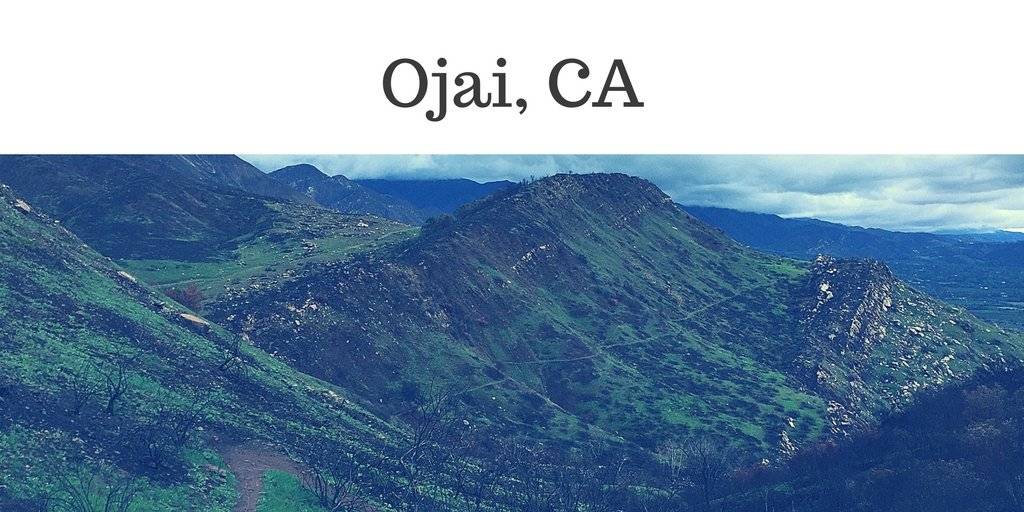 My shot from today's journey.
This is something I usually do when I surf. I really enjoy surfing with my bros and it has become a great part of my surfing life. When you surf with a few friends and score epic waves it can be magical. It is magical.
Anyway, back to the present moment—just hang with your bro. If your bro is boring, add some beer to make it more cheerful.
I know, it sounds kinda strange but it can also be fun—you can even take them on a hike with you or just go grab a meal.
If you are single, then you might even be able to mix in a little romance. But yea, I said I would keep this PG so we won't go down that road. Friends with benefits?
Reading is awesome and can be a great way to lose yourself (or find yourself). Try not to read about surfing though, I usually save those books for when it's pumping.
Reading is a gateway drug, it usually leads to more reading. You learn cool stuff about the world when you read and you might even learn some golden nuggets about yourself.
Here are a few books that I am reading or have read in the last few months.
Is it pumping? Do you want to read a great surf story? Here are two fantastic books that I recommend (awesome for surf trips):
You got any book recommendations? Add them to the comments below.
5. Learn To Play An Instrument
This one I have been trying to do for a long time and just can't ever get beyond the novice level.
I just suck.
If you walked into my house you would think I was some crazy rock star—guitars on every wall, bass, cajon, saxophone—hell, I even bought an electric drum kit as big as a BBQ.
If there is surf—forget it, those instruments just collect dust on the wall. And when there is no surf, I am doing 1-4 above + the non PG-rated activities when I am lucky.
Some people are naturals—one of my best friends, that is the guy who sent the text above, he is a freaking magician. He can hear a song once and pick up a guitar and play it. Savant type shit.
I got another bro that does experimental Jazz—it's crazy good and sounds like a combination of Pink Floyd & Sting during an acid trip.
Not me—just struggling through my scales and trying to keep my damn fingers from touching the strings above.
While I was writing this post my bro below sent me this song about the ocean—this guy is landlocked in Thailand and made it to Brazil for a few weeks and was so touched by the ocean that he learned some Brazilian and sang this song.
This is a great song to listen too if you are missing her like I am right now. Thanks, Jeremy—now you know why we all love her so much!